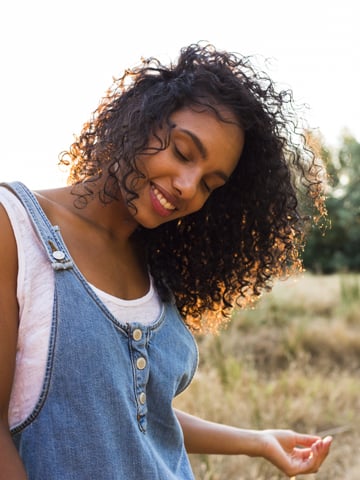 From Marilyn Monroe to Beyonce, ladies with curls are often envied by their straight-haired counterparts. A curly coif represents freedom, strength, and independence. However, curly hair can be unruly and hard to manage.
If you have curly hair, you know that there isn't a one-size-fits-all formula. This makes finding the right product, tool, or technique a major source of frustration.
So, what can help? Knowing your curl type can serve as an excellent blueprint for figuring out your hair care routine.
Continue reading to learn about what makes your hair curly and how to determine your curl type, allowing you to finally understand (and deal with) your wavy or curly hair.
What Makes Hair Curly or Wavy?
While you have your genes, humidity and a variety of other factors to thank for whether you have curly or straight hair, scientists have discovered that the shape of the follicle determines both the curvature of a strand and the angle in which it grows. When a hair follicle is symmetrical, the strand it produces grows round and straight. If the follicle is asymmetrical, the hair tends to curl. Research also shows that curly hair is the result of an uneven distribution of a particular type of keratin that accumulates beneath the curve, on the inside edge of a curled hair.
Determining Your Curl Type
Everyone falls within the spectrum of straight, wavy, curly, very curly or kinky hair. The degree of curl is based on the number of bonds between the keratin within the hair shaft: the more bond links, the more textured your hair will be. On the other hand, the fewer the bonds, the straighter the hair type.
Hairstylist to the stars, Andre Walker, created the most common curl typing system used today, which breaks down the different hair textures into four different curly hair types with subcategories. The Andre Walker Hair Typing System system takes into account density, volume, length and consistency. The number refers to the curl families (straight, wavy, curly, kinky) while the letter refers to how tightly the curls are wound within that category.
Curl Type 1 is the absence of curls. In other words, straight. This hair type ranges from fine and fragile to coarse and thick, but remains resistant to curl. fine and fragile to coarse and thick, but remains resistant to curl.
Curl Type 2 is classified as wavy hair. Type 2 isn't overly oily or dry, which allows for many different styling options along the spectrum of curly or straight looks. This hair type reflects shine well and is very resilient, despite being the curl hair type most prone to frizz.
Type 2A hair is fine and thin, and is relatively easy to straighten or curl using heated tools. (Celebrities with this hair type: Scarlett Johansson, Naomi Watts, Cate Blanchett

)

Type 2B hair has waves that tend to adhere to the shape of your head. 

(

Celebrities with this hair type: Joss Stone, Nelly Furtado, Carrie Underwood

)

Type 2C hair is fairly coarse and frizzes easily. 

(

Celebrities with this hair type: Jennifer Nettles, Daisy Fuentes, Brittany Snow, Salma Hayek

)
Curl Type 3 is classified as spiral curls. Curly hair follows either an "s" or "z" pattern, or some variation in between. Curl Type 3 is prone to tangles, breakage, dryness and frizz. Since the follicle doesn't lay flat, you'll notice this hair type isn't as shiny as Type 1 or Type 2.
Type 3A hair is very shiny and loose with curls the size of a large sidewalk chalk.

(

Celebrities with this hair type: AnnaLynne McCord, Debra Messing, Taylor Swift, Nicole Kidman

)

Type 3B hair has a medium amount of curls, ranging from bouncy ringlets to tight corkscrews, where curls are the size of a marker. 

(

Celebrities with this hair type: Julianna Margulies, Keri Russell, Bernadette Peter

)
Curl Type 4 is classified as "kinky" or tightly coiled hair. While Type 4 hair may give the appearance of being coarse and strong, it is actually the most fragile of all hair curl types. The wiry strands may have a zigzag pattern or show no pattern at all. This hair type experiences extreme dryness and requires constant protection and hydration. Note that Type 4 hair is one the most common hair types found in African American hair.
Type 4A hair is full of tight coils, forming an "S" pattern when stretched, much like Type 3 curly hair. 

(

Celebrities with this hair type: Macy Gray, Monique Coleman, Leela James

)

Type 4B hair has a less-defined pattern of curls, and looks more like a "Z" as the hair bends with very sharp angles. 

(

Celebrities with this hair type: Esperanza Spalding, Jill Scott, Erykah Badu, Solange Knowles)
Video Tutorials for Wavy and Curly Hair
How to Care for Curly and Wavy Hair
Caring for curly and wavy hair starts in the shower, and requires the right products for your hair type. While wavy hair has a natural malleability that makes it one of the easiest hair types to style, many wavy and curly tresses tend to require products that keep the frizz at bay. Here are some tips to keep in mind:
Hydration is Key
Styling your hair starts in the shower with a cleansing and hydrating shampoo & conditioner. We recommend using a sulfate-free shampoo for several reasons. Sulfates strip your hair of its natural oils, causing dull and frizzy hair (especially among those with waves and curls). Next, select a conditioner that will lock in moisture and keep your hair hydrated. Follow up with a leave-in hair conditioner with keratin to detangle while providing protection against heat styling after washing. Keratin, a protein found in hair, strengthens the shaft while smoothing the hairs cuticle, reducing frizz, adding shine and improving manageability - perfect for waves and curls.
Define Curls and Lock in Shine
Although wavy and curly hair tends to have more volume than straight hair, it can fall flat. Using a texturizer on damp or dry hair will help define your waves, providing you the texture and volume necessary to get that healthy bounce everyone desires. Use a diffuser after applying your product for more volume. If you are on the curlier end of the spectrum (Types 3 & 4), use a styling cream or mousse to define the curls without overly controlling your texture. If you prefer a softer curl, use a styling cream on wet hair to piece together and elongate your curls. On day two, refresh your curls and simply smooth the lightweight product along the hair shaft to manage frizz.
Leave it Alone
After styling, keep your hands and tools off your hair to prevent messing up the styling effects. Messing with your curly hair will inevitably lead to frizziness, flyaways and tangles.
Common Wavy and Curly Hair Concerns
This hair type has a reputation for being unpredictable, inconsistent and hard to manage. Right from the start, girls with curly hair are at a disadvantage due to the shape of the hair follicle. Even more challenging, not all curls are created equal, so there's no one size fits all formula. As with all problems, you must get to the root of it to make taming your mane a little bit easier.
How to Combat Dryness
Curly hair has a natural tendency for dryness, much more so than straight hair. This is because the natural oils your scalp produces can travel down the strand of a straight hair much easier than a curly one.
Use a sulfate-free shampoo. Sulfates can lift the hair cuticles and strip moisture, achieving the exact opposite effect that girls with curly hair want.
Avoid hot tools. Minimize use of hot tools or chemical processes that damage the cuticle layer of your hair. If you must use them, apply heat-protectant styling products before you do.
How to Minimize Frizz
The lack of natural oils delivered throughout a curly hair strand is why curly hair often turns frizzy. Humidity only makes it worse. This is because hair fibers absorb water, which forces the strand to revert to its curly structure.
Dry your hair with a t-shirt or with a microfiber fabric. Traditional terrycloth towels absorb too much moisture, creating too much friction and static. After showering, use a technique called "plopping," where you bend over and twirl the fabric around your head. This is a no-heat way to decrease dry time and enhance your natural waves and curls.
Hands off! Once you're done styling your hair, keep your hands (and brushes) off. Messing with your hair will encourage or worsen frizzy hair.
How to Enhance Shine
Highest levels of shine occur on smooth, even surfaces. This places curly-haired people at a shine disadvantage right from the start. Hair continues to lose its shine the more damage occurs, making it look dull.
Rinse with cold water. You might have heard about this method from other curlies, and there is a reason why. Rinsing your hair with cold water causes the cuticle of your hair to lie flat, helping to reflect shine.
Stay hydrated. While it may seem obvious, the best way to keep hair hydrated is if your body is hydrated too.
Try this at-home remedy: Apply equal parts water and apple cider vinegar to your hair after showering. Let it sit for a few minutes and rinse with cold water. Apple cider vinegar restores your hair to its natural pH balance while working as a clarifier to give your locks a healthy shine.
How to Reduce Tangles
The follicle structure of curls is prone to tangles and knots. Here are some tips for reducing tangles: 
Detangle in the shower. Tackle tangles after applying conditioner with the help of a wide-tooth comb to work through any knots. Keep in mind that hair is weaker when wet, so be gentle!
Use your fingers. If you need to work a knot out of dry hair, spray the knot with a leave-in conditioner spray and use your fingertips to smooth out any tangles. The conditioner softens your hair so it's a pain-free way to detangle.
Brush from the bottom up. Starting at the bottom allows you to gently detangle each knot, rather than pushing them on top of one another at the bottom and yanking through, causing breakage.
When washing your hair, don't invite tangles by lathering up your hair into a ball on top of your head. Instead, keep your head upright and concentrate shampoo on your scalp — the main area that needs degreasing.
Clip your hair up at night. The friction from your pillowcase to your hair causes knots and tangles to appear while you sleep. Using a silk pillowcase can also help.
What are the Best Styles and Cuts for Curly Hair?
Given the right haircut and products, unruly hair can be a thing of the past. These styles, cuts, and tips will have you embracing your naturally curly hair in no time.
Best Haircuts for Curly Hair
This curly hairstyle works better on coarse, tight textures than loose curls, as natural volume is needed to achieve the fullness this look requires. But the best thing about this look? No rules! Just make sure it's properly hydrated with a leave-in conditioner so that it has a healthy sheen.
Curly shag. Think controlled chaos. This curly hairstyle is best for women with a curly texture. While those on the extremely coarse and unruly side of the spectrum should avoid this style, the rest should use a serum or pomade when hair is damp and let it dry naturally without touching it.
Tight curls and steep layers. This is the best cut for the vast majority of those with curly hair! Ask your stylist for long and wispy layers. Be careful not to create too many layers at the top, as the lack of weight will leave it too curly. Use a hydrating leave-in conditioner, and when hair is dry, refine pieces as needed with a curling iron.
Long curly layers. Length is key when your curls are tight because long layers help weigh them down — ask for layers no higher than your chin. To achieve movement and volume, wring excess water out of your hair after washing and work a lightweight product through damp hair to control your curls.
Styling Curly Hair
Go au naturale. Let your curls air-dry naturally without weighing them down. A common misconception about curly hair is that it's thick, but plenty of us are on the finer side. Nourish your curls with a light leave-in conditioning treatment.
Sleek and straight. The best way to blow dry curly hair straight is to start with wet hair and prep with a leave-in conditioner, heat protectant, and styling cream. Section off your hair, making it easier to brush and blow dry through. With a round brush, start on the first section of your hair (at the bottom), holding the dryer at a pointed down angle on your tresses. Slowly work your way up to the scalp, rolling up and pulling straight, and then repeat the process for the remaining sections.
Defined curls. Using a diffuser minimizes frizz while evening out your curl pattern and boosting heavy curls' volume. 
What Are the Best Products for Curly or Wavy Hair?
Miracle Moisture Sulfate Free Shampoo

Protect and strengthen hair with each and every shampoo with the It's a 10 Miracle Moisture Shampoo. Effective and intensely moisturizing, this boasts a cleansing formula that is mild enough to safely use on even the most delicate curls.

Excellent just out of the shower as a detangler, and even better as a barrier of protection against heat styling, this lightweight conditioner penetrates deep into the hair shaft, rebuilding dry and damaged hair from the inside out with hair's most vital nutrient – keratin.

Miracle Defrizzing Gel delivers a humectant that stabilizes moisture levels in the hair fiber, which is essential for taming hair. The product also has a mild hold to withstand humidity and weather elements.

It's a 10's Miracle Shine Spray is a simple and effective way to impart lustrous, healthy shine. Designed to be equally effective on wet or dry hair, Miracle Shine Spray uses powerful natural ingredients to help smooth curly and straight styles while also healing the hair shaft to bring out hair's own healthy shine.