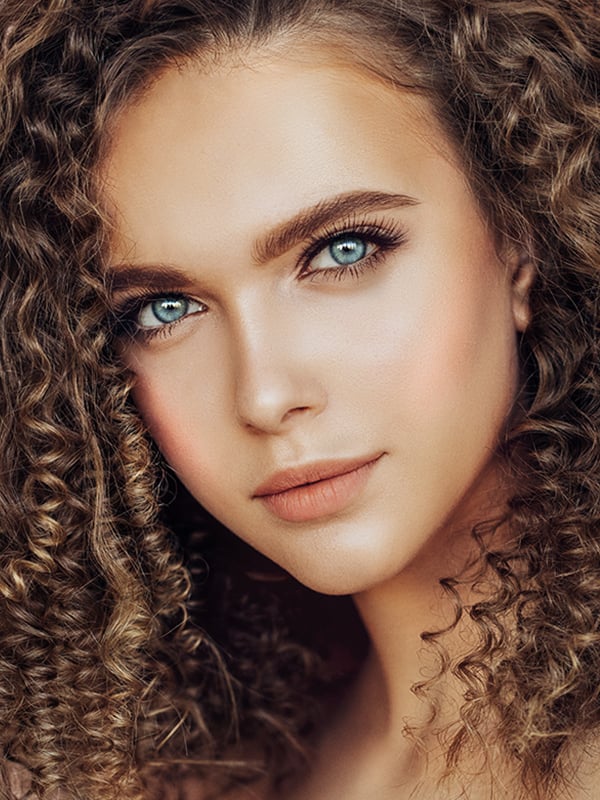 Coily hair has a personality all its own; it's big, bold, and beautiful. With Coily hair, there's unrivaled volume and a little bit of hair care goes a long way. Make sure you use the right products and tools to keep your coily hair bouncy and looking its best.
What Is Coily Hair?
First, let's define Coily vs. Curly hair. Coily hair falls next to curly hair on the spectrum of hair types, although it's much more voluminous than most curly hairstyles. The types indicate how tight the coils are and the texture of the hair.
A 4A coily hair type is made up of S-shaped coils that are springy and dense. Type 4B hair has z-angled patterns with a more wiry texture. Each benefit from defrizzing conditioners with oils and vitamins that help to hydrate the hair. The best 4A hair products contain ingredients like proplylene glycol, a humectant that balances moisture levels in the hair and softens curls.
What's the Difference Between Coily Hair and Curly Hair?
Every hair type is categorized as straight, wavy, curly, or coily. Curly hair starts at Type 3 and the the tighter the curls, the higher the number goes. The most coily hair type is Type 4B and along some spectrums, it can go higher to 4C and 4D. The difference between curly and coily is coily hair has more defined ringlets, increased volume, and often, fuller body. Curly hair ranges from formed curls to looser ringlets.
There are various hair care options for both coily and curly hair. Many hair care products work well on both types, since they fall near each other on the spectrum. Choosing the ideal hair care solution depends on the texture, dryness, and damage that's been caused to your hair. Also, if you heat style daily, color your hair frequently, or use any other products on a regular basis that might weigh it down, this all factors into what hair care product will work best.
How to Care for Coily Hair
Caring for coily hair is easier than you might think. Practicing healthy hair habits and good maintenance tips keep your strands looking well taken care of without being too tame. One of the best things about coily hair is it can look classy and carefree at the same time.
Add Hydration
The main thing to keep in mind when caring for coily hair is hydration. Because of the volume of this hair type, it's common for it to be on the drier side. Due to this, it's best to condition your hair regularly with a leave-in product that can be absorbed before, during, or after a shower. Hair care products with ingredients like argan oil or shea butter do wonders for your hair to keep it moisturized throughout the day.
Why is coily hair prone to dryness?
Carolyn Aronson, founder and CEO of It's A 10 Haircare says "Coily hair is dryer and more fragile because it has less cuticle layers to protect it from dryness". This is why it is so important to add hydration if you have coily hair type.
Swap for Silk
It's also important to take care of your hair while you sleep. This includes protecting it from the damage cotton pillowcases often cause. Sleep with a silk pillowcase or wrap your hair in a scarf or bandana to keep it from tangling too much and to protect your locks from becoming extra frizzy.
Daily Damage Control
Finally, cover your hair when outside to prevent damage from the sun. Shield it with a hat or another hair cover whenever possible to help the hair from drying out. Protecting tight, coily hair is a daily necessity whether you're sleeping or simply going about your normal routine. By using coily hair products, it can help you fight ongoing hair damage such as breakage or tangled tresses.
Common Coily Hair Problems
Unsurprisingly, if you have a coily hair type, you face many of the same problems as people with curly hair have. Again, it depends on where your hair falls on the spectrum and the condition it's in, how often you shampoo your hair, and style it. In general, when it comes to coily hair vs. curly hair, both types have similar challenges, including frizziness, dryness, and breakage.
Fighting Frizz
Type 4 hair is prone to frizziness if not taken care of properly or styled with products not specifically suited for coily hair. A styling serum helps tame hair and give it shine, while still allowing bounce. It also helps keep the hair soft throughout the day and gives it the nutrients it needs to become stronger.
Saying Good-Bye to Dryness
Dry hair is not a good look for anyone. It makes the hair appear lifeless and dull regardless of hair type. To provide your hair daily moisture, add a leave-in conditioner or hair mask into your hair care routine. Ingredients like silk amino acids restore natural moisture to create a shinier, healthier result.
Protecting from Harsh Conditions
The environment can wreak havoc on your hair. Protect your hair from the sun and other situations that can dry out the hair such as chlorine from the pool or heat damage from hair care tools. Cover your hair when outside and use a heat protectant styling product when using a blow dryer or curling iron.
Hair Styling Gently
Be gentle with your coils when styling and when you hold it back with clips or hair ties. Use products that won't break your hair. Apply a leave-in conditioning treatment immediately after you step out of the shower. Then, loosely run your fingers through your ringlets to prevent tangles. Finally, keep your hair maintained with regular trims to get rid of dead ends and make way for healthier hair growth.
Best Haircuts and Styles for Coily Hair
When you have naturally coily hair, there's little that needs to be done to it to give it the look you want. The right hair care and day-to-day treatment will leave your curls looking strong and shiny. However, when you want to switch things up with a new 'do, here are a few, go-to looks:
Cropped Coif
If you're thinking about lobbing off your locks, a cropped hairdo is cool and modern. The style gives your hair even more volume and body. Talk with your hairstylist about how close to cut the hair to the head so that it's most flattering to your face shape and conducive to your regular hair care routine.
Side Part Switch
To easily change your hairstyle, switch up the part. Either choose the opposite of what you normally have or make your part deeper on one side. It's a non-committal look that can make a dramatic difference. Follow the hairline to find a natural divide and then, hold the part with a finishing spray and smooth the ends with a serum.
Pin Backed and Pretty
Use hair accessories to add extra style to your coily hair. Jeweled bobby pins help to create a day-to-night look. Use coated pins that won't tug or damage your hair when placing or pulling them out. Put three vertically on one side of your hair or criss-cross pins along the crown of your head for an effortless style.
Best Products for Coily Hair
Miracle Defrizzing Daily Cleansing Conditioner

Make your shower routine simpler with the Miracle Defrizzing Cleansing Conditioner. The one-step product cleanses and nourishes your hair while fighting frizz. The infusion of coconut oil leaves hair soft, hydrated, and healthy, perfect for those who want to smooth and strengthen their hair.

Forget about unruly hair when you have the Miracle Defrizzing Style Gel in your hair care arsenal. The lightweight formula eliminates frizz while providing style and definition coily hair requires.

Shape clean, damp hair with the Miracle Defrizzing Curl Cream and be amazed at the luminous shine and lasting hold it brings. Vitamins A, C, and E along with Kukui Nut Seed Oil nourish the hair and allow it to regain lost moisture while protecting against split ends.