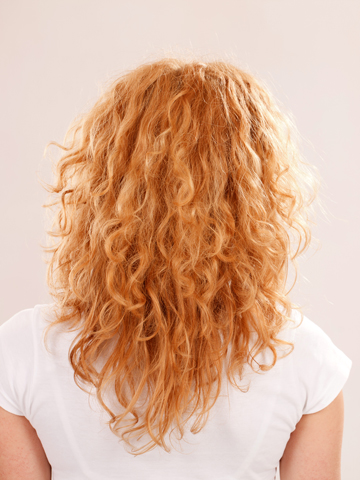 What Causes Frizzy Hair?
Frizzy hair can happen to anyone. It doesn't matter if you have straight hair, curly hair, or something in between. Frizziness results from a lack of moisture, unwashed hair, and/or environmental elements like humidity.
Hot water can also be damaging to the hair and cause frizz. Although long, hot showers might feel great, the longer the water penetrates the hair, the more it strips it of the natural oils that help boost shine. Over-shampooing your hair can cause frizziness as well. Additionally, left-behind residue from hair products can weigh hair down, which can leave it looking limp and dull.
Overuse of heat styling products can also be culprits behind frizzy hair. Curling irons, flat irons, and blow dryers have all been known to wreak havoc on tresses. If heat styling is part of your daily routine, it's best to use heat protectant products to keep smooth, shiny hair intact. Constant heat can dry out hair and cause it to look damaged. What you'll end up with is split ends and hair that looks tangled or untamed. Fortunately, with proper hair care, you can say goodbye to frizzy hair for good.
What Does Frizzy Hair Look Like?
Words used to describe frizzy hair include: dry, damaged, stiff, straw-like, and rough. Not exactly the kind of adjectives you want used to describe your mane. While certain causes are out of our hands, such as the weather, there are other ways to keep frizz under control. By using the right hair care products, you can change from looking frazzled to finessed.
How to Tame Frizzy Hair
If you've wondered how to manage frizzy hair on a day-to-day basis, the first thing you want to do is start with the right shampoo and conditioner. Use products that are formulated for your hair type with added ingredients that help eliminate frizz and increase shine, like keratin and sweet almond oil.
Comb through your hair before stepping into the shower to avoid tangles and frizz. After your shower, gently pat your hair with a towel to dry and comb gently, starting at the bottom and working your way up to the root.
Avoid using hair elastics or clips that can pull at the root of your hair and cause frizz. And stay away from any hair products that contain alcohol, as these will immediately dry out your hair. When it comes to managing frizzy hair, starting with good hair care habits is key.
Video Tutorials for Frizzy Hair
Treatments for Frizzy Hair: DIY and Salon Hair Treatments
When your locks need extra love, frizzy hair home remedies like a deep conditioning treatment or hair mask can give your hair the extra boost of moisture it needs. If you are wondering how to tame frizzy hair naturally, use a few, simple organic ingredients to your own DIY hair mask.
Avocados are often used for hair masks due to the amount of vitamin E they contain. Mix a ripe avocado with a tablespoon of olive oil and apply to your hair. Let it soak in for 30 minutes or longer and rinse out with cold water. This simple concoction can help hydrate and condition your hair for a silkier, softer look.
Bananas are also popular when mixed with yogurt to use as a hair mask for hydrating frizzy hair. When creating hair masks at home, remember to rinse them out thoroughly.
If you are ready for the next level of hair care, see a stylist for a hot oil or hair smoothing treatment. Depending on the texture of your hair and how badly it's damaged, a hair care professional can assess the kind of salon hair treatment that will work best for your hair type. They will also provide helpful tips and product recommendations to keep your hair smooth, like a weekly deep conditioner.
Styling Tips for Frizzy Hair
First, consider how much of your hair is frizzy and how much is actually damaged. Damaged hair should be trimmed as much as possible to create a healthy starting point. Curls are a good option to rein in frizzy hair, especially if your hair is long and thick.
Apply a leave-in conditioner and heat protectant to the hair before styling. Section and curl the hair by wrapping pieces of hair around the barrel of the curling iron. This method keeps your hair from being "clamped" in place, which can pull on strands and add frizz. If your hair is already on the wavy or curly side, pick random pieces to curl for added volume and texture.
Loose braids are also a good option for styling frizzy hair. Braids add texture and can work well for hair that's damp or dry. Once you've pulled your hair into a braid, use a light hairspray to tame down flyaways. Updos or buns are also popular ways to style frizzy hair. Rub a leave-in hair care product between your palms and glide over the hair to pull into a loose chignon or high bun. Once secured with bobby pins or a clip, smooth at the crown for extra polish. This works best if your hair is slightly damp so it can be pulled back into a sleek look.
Don't let frizzy hair leave you feeling frazzled. Regular maintenance, the right products in your hair care arsenal, and easy styles make it easy to tame frizzy hair and leave you feeling and looking good.
What Are the Best Products for Frizzy Hair?
It's a 10 Miracle Oil Plus Keratin

With just a few drops of It's a 10's Miracle Oil Plus Keratin, you'll help shield your hair from heat and humidity, while defrizzing and adding instant shine.

It's a 10 Miracle Finishing Spray

To lock in hairstyles for frizzy hair, It's a 10 Miracle Finishing Spray provides a lightweight hold that is humidity resistant and helps boost shine. Keep this stashed to tame stray hairs throughout the day.

It's a 10 Miracle Silk Smoothing Balm

Fight frizz with a silky balm that helps hold style in place while creating smoothness and shine. When used regularly, It's a 10 Miracle Silk Smoothing Balm helps keep hair under control and silky soft.

It's a 10 Potion 10 Miracle Repair Hair Mask

Coat your hair in moisture with this super hydrating repair mask. It's a 10 Potion 10 Miracle Hair Repair Hair Mask helps to smooth hair, eliminate frizz, and protect against environmental elements. Shine on!

It's a 10 Miracle Whipped Styling Balm

Get three products in one with It's a 10 Miracle Whipped Styling Balm. This gel/cream/mousse brings the best of all worlds by smoothing frizz, fighting humidity, and reducing hair breakage for silkier, smoother hair.

It's a 10 Miracle Defrizzing Gel

It's a 10 Miracle Defrizzing Gel is one product you shouldn't go without. It's specifically formulated to promote hair that has fewer flyaways and less frizz, while also improving the texture and condition of your tresses.