It's a 10 Miracle Daily Shampoo Plus Keratin - 2oz Travel Size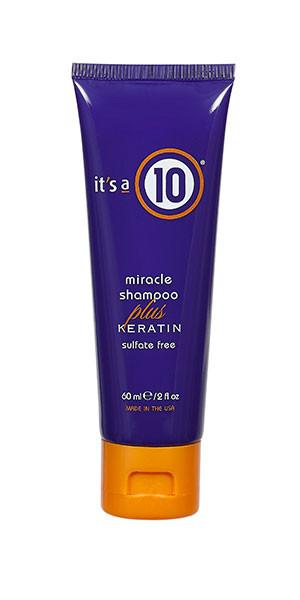 About This Item
As if our Miracle Shampoo wasn't enough, we've now combined it with hair's favorite fighter, keratin! It's a 10 Miracle Shampoo Plus Keratin delivers the intense conditioning and protection of keratin protein in a simple daily shampoo. Free of sodium chloride, parabens, and no sulfates added this shampoo protects color, shields against heat styling and environmental damage, and leaves hair bouncier and softer with every use. Plus, it smells amazing and will have you mistaking your shower for the spa in no time!
JUST ONCE A DAY IS ALL IT TAKES TO INFUSE YOUR HAIR WITH THE POWER OF IT'S A 10 MIRACLE SHAMPOO WITH KERATIN'S KEY INGREDIENTS:
Panthenol: a highly effective strengthener
Chinese Tea Leaf Extract: enhances overall hair health with antioxidants and nutrients
Sunflower Seed Extract: natural sunscreen that extends the life of color
Linseed Oil: complex natural oil and moisturizing agent that penetrates hair shaft
Linalool: plant-based shaper and fragrance
---
Frequently Bought Together
---
Ratings & Reviews
100%
of reviewers would recommend this product to a friend
Love my hair
This is my favorite product line and I have tried slot!!
Love it
Just tried this shampoo with the recent 50% off deal. I will definitely buy again. It's great for my damaged, bleached hair.
*****
Loving it. My hair looks amazing
Wash and dry
Great stuff. Have been using for a year so loved a great deal!