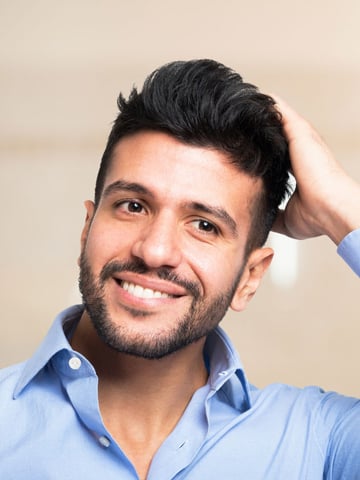 Hair goals aren't just for the ladies anymore. Nowadays, maintaining a great head of hair is a part of most men's daily routine. While you can't control certain genetic factors like thinning, receding, and balding, you can control how healthy it is. Your hair requires maintenance in order to keep it healthy and strong, so use this men's hair care guide to step up your daily hair routine.
Hair Care Tips for Men
Haircare for men begins at its foundation: the scalp. Since your hair is essentially just a protein with no reparative qualities of its own, it should come as no surprise that the place from which it grows requires the most care. Imagine your hair as a plant and your scalp as the soil where it gains its nutrients. A healthy scalp ensures healthy looking hair.
Wash and Exfoliate
Maintaining a healthy scalp begins in the shower. Minimize clogged pores and keep your scalp clean and healthy by washing your hair with a gentle men's shampoo daily. Dead skin cells and dirt can build up in your hair, so to eliminate this, exfoliate your scalp once or twice a week using an exfoliating scrub.
Massage
Think of your favorite part of the salon experience. It's likely the part when the stylist is washing your hair and massaging your scalp, right? Turns out, getting a scalp massage has more benefits than just feeling good. Massage your scalp once a week to stimulate growth, increase blood flow and circulation, and relax your muscles. Do it yourself by placing your fingers under the hair to avoid pulling, and massage using firm pressure in a circular motion for three or four minutes.
Pat Your Hair Dry
As with everything, education is key. Knowing basic hair care tips when it comes to drying and combing is a great place to start. Drying your hair wrong is one of the biggest causes of damage to men's hair. This is because your hair is in its most fragile state when it's wet, and aggressive towel drying or combing can result in breakage. To properly dry, pat or shake out the excess water and stroke your hair in the direction it grows. This will help prevent hair from being stretched out and damaged. When combing or brushing, use a wide-tooth comb or brush, and avoid tugging on the hair. 
Avoid Heat
One the main causes of dry scalp is washing with water that is too hot. Hot water may feel great on your skin, but it can ruin your hair, stripping it of vital oils that keep it healthy and give it a natural shine. Take the temp down a notch and wash your hair with lukewarm water.
Avoiding heat applies post-shower too; excessive blow drying can dry out your hair. If you notice excessive dryness, a leave-in conditioner can help replenish moisture to the scalp.
Get Trimmed
Once the damage is done, the only real way to get rid of it is to cut it off. Even if you're hoping to grow your hair out, experts recommend getting a trim every three to six weeks.
Avoid Tight Hats
A word of caution to all hat wearers: A too-small hat can cause traction alopecia, a condition where hair is pulled out of the scalp. This can cause breakage and damage to the cuticle, and with time (and constant hat-wearing) can be permanent.
What Are the Best Products for Men's Hair?
He's a 10 Miracle Defining Gel

He's a 10 Miracle Defining Gel keeps hair firmly in place without sacrificing touchability and movement. It's an emollient-rich styling gel that can be used wet or dry, providing a natural-looking hold that isn't stiff or "plastic" looking.

He's a 10 Miracle 3-In-1 Shampoo, Conditioner & Body Wash

Simplify your grooming and hair care routine with this effective multi-purpose product that cleanses & conditions hair, moisturizes the scalp, and acts an all-over body wash.
He's a 10 Miracle Defining Gel

He's a 10 Miracle Defining Gel keeps hair firmly in place without sacrificing touchability and movement. It's an emollient-rich styling gel that can be used wet or dry, providing a natural-looking hold that isn't stiff or "plastic" looking.

He's a 10 Miracle 3-In-1 Shampoo, Conditioner & Body Wash

Simplify your grooming and hair care routine with this effective multi-purpose product that cleanses & conditions hair, moisturizes the scalp, and acts an all-over body wash.
Best Haircuts and Styles for Men's Hair
Now that you understand the basics of men's haircare, the next step is finding the right cut and style to suit your hair type and face shape. Selecting a haircut for men can be challenging when you don't know the correct vocabulary.  Here are a few key terms to help you choose the right men's haircut for you:
Fade
Often interchangeable with the term "taper," a fade is when the hair on the side of your head is gradually shorter from top to bottom. Fade cuts are one of the most simple and stylish ways to style men's hair. This classic look can be adapted for any man: keep it longer for a more understated look, or taper it down a bolder look.
A low, mid, or high fade determines where your fade begins. As the name suggests, a high fade comes the highest up your head. Select how long or short the length of your fade, the shortest being a skin (or bald) fade. If you want a longer, more textured look, ask your stylist to use scissors rather than clippers.
Other tips for this men's haircut:
For a smart, simple look, ask for a mid or tapered fade.
Not ready to lose length on the sides? Select a scissor fade.
The skin fade looks best when the overall length of hair is shorter.
Love your beard or stubble? Try a low fade.
Temp fades look best with tight curls or afro hair.
Undercut
The undercut hairstyle is a popular men's hairstyle where the sides and back are short or shaved, and the hair on top is left long. The hair on top can then be styled in a variety of ways, such as swept to the side, slicked back, brushed up, or made into a pompadour or quiff.
For thick hair that requires more control, opt for a side part undercut.
Need additional volume? A textured undercut is great for thin hair.
Pompadour
This iconic look, where the hair just above the forehead is the highest point and gradually falls toward the back of your head, has been around since the 1950s. The "pomp" is created by a large volume of hair that is swept upwards in the front. For a traditional pompadour, think Elvis.
How to get this look:
Blow dry your hair straight, angling the dryer up so your hair is styled around the curve of your head.
Take a little pomade or hair paste, warm it in your hands, and smooth using your fingertips so it's evenly distributed throughout your hair.
Quiff
The "quiff" is similar to the pompadour, but it styles the hair forward and can be left messy. This versatile hairstyle works with short, mid-length or long hair. For a traditional quiff, think James Dean. For a modern quiff, think David Beckham.
How to get this look:
Create a straight side part and comb hair against the grain. Blow dry upwards and style using a fine-toothed comb and hair paste.
Don't wash your hair too much, as this will remove volume and texture from the style.
Understanding Men's Hair Products
There is an abundance of hair products for men, each with an intended use for specific hair types, lengths, and textures. What you use can change based on how long your hair is, what style you want it in, and what type of hair you have. Determining the right hair product(s) for you can be overwhelming. To simplify it, we break down each product for you based on two important styling qualities: shine and holding power.
Gel
Gel provides maximum hold and high shine. While men's hair gel can vary in strength, it is generally used to lock your locks into place, all day long.
Apply to towel-dried hair or before blow drying for a fuller, softer style.
Avoid drugstore quality brands that leave your hair feeling cemented. Opt for a lighter-grade gel that won't suffocate your strands.
Wax
Wax will help you achieve medium hold with low to medium shine. Although better for shorter cuts or those with longer, tousled styles, wax can be used for a variety of men's hairstyles. Wax is more pliable than gel, allowing for hair to be restyled throughout the day.
Apply to dry hair.
Wax is best suited for those with straight or slightly wavy hair because it has a tendency of clumping in curly hair.
Waxes are great for hairstyles that require a comb.
Cream
Cream gives you a low hold with low shine and is great for medium and longer styles. It gives longer styles light control without locking it in place and keeps medium hair looking nourished and healthy.
Best applied to towel-dried hair.
Use a blow dryer for slightly firmer hold.
Moisturizing ingredients help combat frizz, making them an ideal product for men with thick, coarse or curly hair.
Pomade
Pomades offer medium hold with high shine and are best used for slick, defined hairstyles.
Pomades allow for high flexibility and therefore work well with combed hairstyles.
Either oil-based or water-based, pomades are creamier than waxes which makes them a great hair product for men with thick or curly hair.
Oil-based pomades are generally less expensive and offer a stronger hold than their water-based counterparts. However, they can strip your hair of its natural oils while causing build-up and clogging pores.
Paste
Hair paste is the most versatile styler, offering medium hold and medium shine. Thicker than a pomade, paste gives hair flexibility and texture, without the build up.
Use prior to blow drying on medium styles for a lightweight but voluminous result.
Apply to the roots of long hair for a lightweight hold.
On wet hair, it gives you a medium hold with a matte finish; on dry hair, it's perfect for messy, textured styles.
Clay
Clay is best for looks requiring high hold and low shine. Clay hair products are stickier than pomades and fairly similar to fiber.
Apply to clean, dry hair and then style it.
Clay offers great benefits to your hair. It draws out impurities but nourishes the scalp because it's rich in mineral and nutrients.
Clay controls frizzy hair, making it a great hair styling product for men with curly or longer hair.
Fiber
Fiber gives you high hold with low shine. It's ideal for textured, "bedhead" styles on men with short and medium hair.
Apply to clean, dry hair.
Fiber is generally used on shorter styles because if you use it on longer hair, you'll most likely end up with a tangled mess.
Sea Salt Spray
Sea Salt Spray is a great men's hair product to add volume to your hair for a purposely messy look on longer locks.
Apply to wet or dry hair.
Sea Salt Spray can also be used as a texturizer to any hair type or style.
Dry Shampoo
Dry shampoo freshens your hair without requiring you to get in the shower — great for fine or oily hair that needs a boost.
If your hair is on the thicker side, use this after a sweaty workout and skip washing your hair. The powder soaks up sweat while destroying odor.