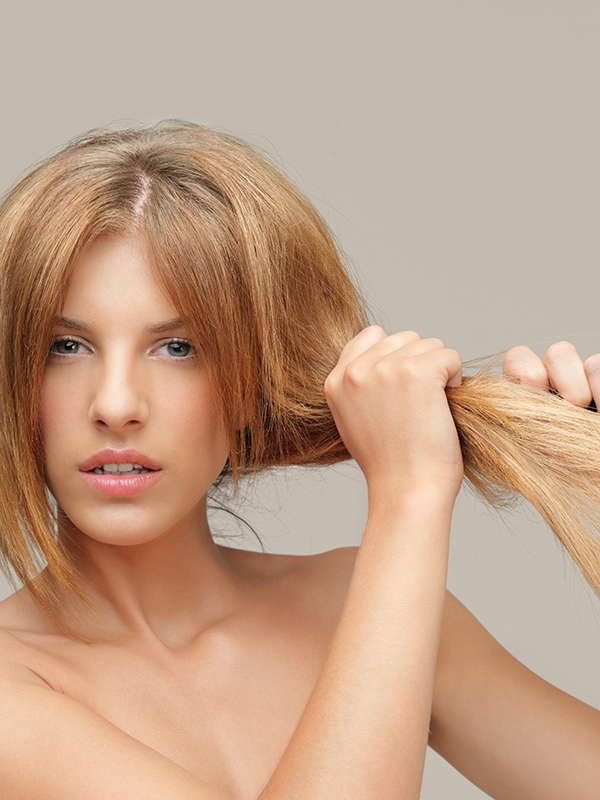 Dry and damaged are definitely not words that inspire hair goals. Most hair care efforts are meant to achieve the exact opposite. But do you know if your hair suffers from either of these conditions? It may seem visibly obvious, but often, it's a professional stylist who will point out just how much damage has been done to your hair before the problem is addressed. The good news is, it's a common problem that can be fixed. In this style guide, we'll take you through the definitions of both dry and damaged hair, how to repair it, and what to do to maintain healthy, well-conditioned hair in the future. Dry and damaged hair be gone!
What Causes Dry Hair?
Believe it or not, hair can get dehydrated. As you might guess, when your hair doesn't maintain enough moisture, the resulting look is dry and dull-looking. It can cause some hair types to become frizzy, while others might just fall flat. Outdoor climates, diet changes, age, and certain products all can be culprits when it comes to dry hair causes.
Excessive use of heat styling tools and exposure to the sun can also "fry" the hair and cause it to look damaged. It's important to protect your tresses as much as possible with heat-protectant products, sunscreen, scarves, and hats that add a barrier for your hair. When you start with well-hydrated locks, you'll notice it's much easier to handle and style your hair.
What Does Dry Hair Look Like?
Dry hair has a brittle texture to touch, and stray hairs and split ends may be visible when you look in the mirror. You might also notice an itchy scalp and dandruff, if you don't take care of your hair properly. Dry hair may become easily knotted and result in breakage to the hair follicles, causing you to lose more hair than normal.
What Does it Mean to Have "Damaged" Hair?
Dry hair and damaged hair can be used interchangeably, but damaged hair refers more to the overuse of products or hair processes that have ruined the hair shaft. Hair damage can be caused by factors, such as:
hair coloring
heat styling
hair product overload
hair processing (straightening treatments, perms, etc.)
sun damage
chlorine damage
Even tap water can cause damage or buildup in your hair depending on the elements it contains. However, hair damage could also be the result of a health condition, such as vitamin deficiency,  anorexia, or hypothyroidism (when your body doesn't produce enough of the hormone that helps regulate your metabolism). Identifying the source of your damaged hair is the first step to finding the solution.
What Does Damaged Hair Look Like?
Damaged hair has a brittle, straw-like appearance. The hair shaft is fragile and prone to breakage, resulting in split ends and stray, unruly hairs. It will feel stiff and "crunch" upon touch with little movement. When the hair is damaged, any additional heat styling or products will only make the hair look worse and take longer to recover.
The best thing to do is give your hair the rest it needs if it is starting to look damaged. This includes using a formulated shampoo and conditioner with nutrients and ingredients that will help revive the hair. Also, refrain from heat styling and harsh towel drying when possible. When the hair is in this fragile state, any extra demands made on it can result in further damage.
How to Repair Damaged Hair
First, start with a deep conditioning mask. Let it soak in and give your hair the vitamins and nutrients it desperately needs. A deep conditioner will help hydrate the hair, while also strengthening it from the damage that was done. Repeat these treatments at least once a week; if you are prone to dry hair, make it part of your hair care routine and use one every few days.
Second, switch out your old shampoo and conditioner for products designed to help hydrate and condition the hair. Make sure to rinse thoroughly, since any product left behind can lead to buildup and the dull look that comes with dry hair. If you do not use conditioner in the shower, opt for a leave-in conditioner after you get out, combing gently through the hair from root to tip.
Third, for those who color their hair often, make sure to use a conditioning treatment before and after your time spent at the salon. Use products designed specifically for color-treated hair to limit damage and leave you with healthy-looking locks.
Finally, just because you have dry hair doesn't mean you have to avoid heat styling altogether. Lower the temperature on your heat styling tools and apply a heat-protectant product prior to curling or straightening your hair. Repairing damaged hair will take time, but if you follow these steps you should start seeing improvements.
How to Care for Dry Hair
Be gentle.
Yes, your hair can handle a lot and is generally resilient, but that doesn't mean you shouldn't take extra care in preserving the health of it by following a few easy to-dos:
Protect the hair from the seasonal elements.
Summer and winter are especially hard on the hair. With chlorine from pools and excessive sun exposure, it's a recipe to wreak havoc on your tresses. On the other hand, winter months are known for being extremely harsh on the hair due to the dry air and continuous use of blow drying and heat styling (which may not be as constant during the warmer months).
Maintain a healthy hair care routine.
Get in the habit of using products created specifically for your hair type. It's a 10 hair care products are formulated to benefit all hair types, but each product has its own combination of ingredients to focus on the areas you need it most.
Let it rest.
The more you overwork your hair, the more prone to dryness it becomes. When possible, let your hair air dry or skip heat styling and pull your hair up into a loose bun or braid. Comb through damp hair with a leave-in conditioner so it will absorb the product better without causing too much breakage to your strands.
Make it a mask night.
Apply a deep conditioning hair mask at least once a week and give it time to soak into your strands. Not only is this hydrating for your hair, it's a fun way to feel pampered. Give your dry and damaged hair the care it needs and you'll see shiny, smooth locks in no time!
What Are the Best Products for Dry Hair? 
As the ultimate product for any hair type, It's a 10 Miracle Leave-In Product is key to restoring dry, damaged hair. Its combination of ingredients encourage silkiness, stop hair breakage, and control frizz for shiny, smooth hair.

It's a 10 Miracle Silk Shampoo creates a creamy, rich lather that will instantly make dry, lifeless hair feel silkier. It reduces breakage, creates shine, and includes natural moisturizing extracts to help hydrate and condition the hair at the same time.

in10sives Leave-in Conditioner

When your hair needs a healthy drink of moisture, in10sives Leave-in Conditioner does the trick as an everyday hair conditioning treatment for dry hair. The powerful formula transforms dry, unruly hair into silky, shiny hair that's frizz-free and full of movement.

Potion 10 Miracle Repair Hair Mask

Consider the Potion 10 Miracle Repair Hair Mask the holy grail of hair treatment for dry hair. Use this restorative hair care product to coat the hair from root to tip to soothe the scalp, repair breakage, strengthen the hair, and make it more resistant to future damage.